"A Progressively Lipogrammatic Epistolary Fable"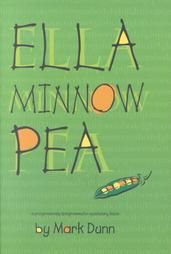 This book was a fun read. I finished it a week or so ago.
This story was so fictional that it wasn't believable as I was reading it. However, it was still fun to read! A very fictional island country pays their respects to the man who invented the sentence "The quick brown fox jumps over the lazy dog" (which uses all the letters of the alphabet) with a statue and that sentence over it in tiles. The tiles, which have been on the statue for one hundred years, start falling, and in order to respect the founder of their island country, the people are not allowed to use the letters that have fallen. They cannot speak or write with the letters that have fallen.
Eliminating "Z" isn't so hard, but as the letters keep falling, the people have more and more troubles. The tiles eventually dwindle to L, M, N, O, and P. (Say "Ella Minnow Pea".)
Because this book is written in letter format, it is interesting to see how the townspeople adapt to not using the letters that are not allowed.