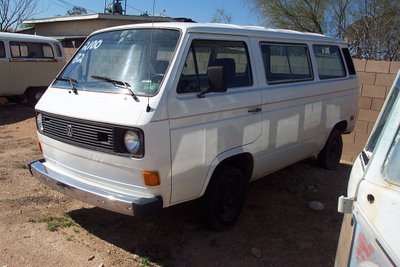 Well,
Mrs. Blythe
posted a
list of things
about herself that most people don't know. I'm sure I could come up with ten things as well, but right now I just don't want to admit to that many things. LOL
Will one suffice?
My first vehicle (though not by choice!) was a 1982 white VW Vanagon, which the family had nicknamed "Vanna White"--though it was not glamorous by any means. It got me (slowly) where I needed to go, and I didn't have to buy it, so hey, who cared what it looked like! The snub "nose" of Vanagons is made possible because of the engine being in the back of the van.
One night, I had a few of my sisters in the van with me, and I was turning right onto a main street. I looked
left
, and started turning, without checking to my
right
. Bad mistake. My sisters started screaming at me, and I looked straight ahead, and there was a man with his hands on my windshield, and his face level with mine. Talk about a shock!!! (For both him and me! I imagine he hasn't forgotten this incident!) He was fine, by the way.
When we arrived home, my loving sisters
ran
inside so they could be the first to tell someone, anyone, that I had run into a person. Thereafter, I made sure to look
both
ways before turning right!
And that, my friends, is something I rarely talk about! Don't you feel so "lucky" knowing that you are priveleged to this secret? *Grin*
Anyone want to go for a drive with me?

Image from www.VWsByUncleBob.com, picture of a white 1982 VW Vanagon!